Samsung Q9FN QLED Product specification and review
Although the year has only just begun we can already tell that 2019 is going to offer us some of the best TVs we've yet to see. We caught our first glimpse of these futuristic flatscreens in early January at CES 2019 and walked away impressed with all the new tech Samsung, LG and Sony have cooked up for us later this year.
That said, if you can't wait until later this year when all those beautiful new screens hit the market – maybe because you're hosting a Super Bowl party or a movie night this weekend – we can certainly help you pick from last year's stock.
To sort things out in a digestible format, we've divided our guide into two pages. The first page details the best TVs out right now, along with their key specs, while the second page will teach you more about what makes a TV tick and why those specs matter so much.
Need to know how to watch? See our Super Bowl live stream guide
"Should I buy a TV now or wait it out?"
This is a question we get a lot. Like most technology (cough, iPhones) TVs are getting incrementally better all the time – which means, yes, if you wait a year there will probably be a bigger, flashier TV out there for less money.
But while doing so will certainly net you a larger screen at a better price, some of the best panels are already being manufactured today. While tomorrow's screens might be a bit larger, a bit brighter and a bit cheaper, today's screens are just as competent in their own right.
We can say that with confidence knowing that most manufacturers have finally embraced the three most important standards in TVs: Ultra HD, Wide Color Gamut and HDR (HDR10 and Dolby Vision). If a TV you're looking at doesn't support at least one of these, you should probably look somewhere else.
Not sure where to start? Here are the best TVs we tested this year.
Editor's Choice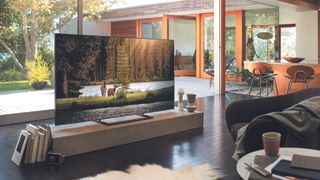 1. Samsung Q9FN QLED (2018)
65-inch: Samsung QE65Q9FN
Powerful, well-rounded sound
Good smart system
Limited viewing angles
After an underwhelming debut, Samsung's QLED technology really needed to bounce back in style in 2018. It didn't surprise us in the least, then, to discover Samsung threw the kitchen sink in with its new Q9FN QLED Series of TVs.
As well as being even brighter and more colorful than last year's equivalent model, Samsung's 2018 flagship screens use a completely different lighting system to combat its predecessor's contrast problems: Full Array Local Dimming rather than edge-lit LED lighting. The FALD panel works in tandem with Samsung QLED Quantum Dots to produce a picture that's brighter and more colorful than near any we've seen come from the South Korean manufacturer.
Do those features alone make Samsung Q9FN the best TV on the market? No, but throw in technology like HDR10+ and Q HDR EliteMax – what Samsung bills as its maximum High Dynamic Range experience that's exclusive to the Q9FN – and there's very little doubt in our mind that this is Samsung's best TV ever